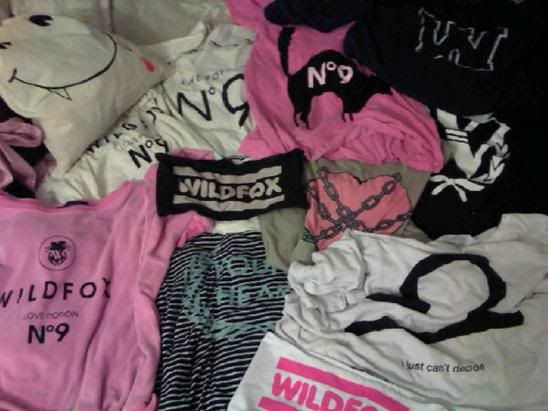 I'm a bit obsessed with wildfox ever since i found out about them through fashion blogs then when they were white horse til now. i wore everything and had to do laundry so i sorted out my faves on my bed. FYI i'm not a LIBRA i'm a
SCORPIO
but they ran out when i went shopping so i resorted to my boyfriend's sign. ahahhaha wish i just ordered it online.
they say libra's and scorpios shouldn't date but we've been together for 2 yrs + 3 mos. WOW
i remember wildfox had a summer to do list and one of em was to have a teaparty so heres mine:
went through the trouble of buying some pearled sprinkles! cute addition to my mini lemon cupcakes
we got to decorate our cupcakes :)
not everyone could go out and go buy gloves, so i made all my girls gloves to stick to the whole feel of it all. good to have a sewing machine!!
so my teaparty almost came out to be a mini picnic too but its okay! it was fun!! notice the cute napkins , daisy shaped sandwiches and heart shaped teacups!!
best girls ever!
didnt edit any of these pictures to give ya'll a gist of how artsy it could have gone down, but we had lots and lots of fun! thanks for the idea @
wildfox